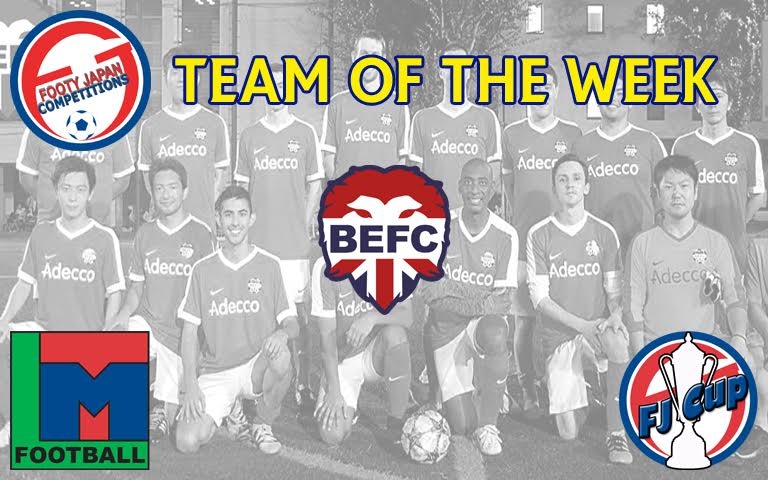 FJ TOTW MATCHDAY 15
Announcements -
December 2nd 2017
Not sure where to start with this weeks FJ TOTW. Guess we should look at some worthy contenders first. BFC Tokyo for being the first team to take points off Hibs this season, Kanto Celts for hitting 10 past Imperio and Albion Old Boys scoring 6 past the usual solid Vags defence.
Saturday afternoon both British Embassy teams had contrasting results. BEFC were 3-2 up against Panthers until the 70th minute. They then blew it to lose 4-3. Straight after BEFC Lions were looking for their maiden TML victory faced King George FC.
The Lions team was a combination of some old BEFC players, some current ones and some new players who were enjoying their first TML season.
The game kicked off and the Lions had more of the ball but found themselves 2 down by half time. A third King George goal early in the 2nd half all but secured the 3 points. However, this is amateur football and anything can happen.
Lions pulled a goal back from a lovely taken corner, flicked on by Bates and into the top corner (That's right, an own goal from myself, scored loads of those through my illustrious career). 3-1 game on. King George then went up the other end and scored a 4th. This was still against the run of play and surely it was enough to secure the clubs first back to back victories of the season. 10 minutes later Bateman (Not me) scored a consolation for BEFC Lions. I say consolation but this was far from the case. The Lions smelt blood and went for the kill. Another corner from the Lions found Carroll for a tap in (FYI, Carroll is my midfield partner).
So 4-3 with 10 minutes to go. Could King George hold on or would BEFC get the equalizer to take their point tally to 3 for the season? 3 minutes later Batman found himself through on goal, he took it past the keeper and slid it home to make it 4-4. A draw......King George at this stage would have taken that. The Lions wouldn't and didn't. 2 minutes to go Weber found himself with some space in the box and made it 5-4.
Kick off; KGFC went for a final attack, bit of pressure but nothing came of it, possession lost, quick counter attack, 4 Embassy players v the one King George defender, tap in 6-4. An epic 24 minute comeback. BEFC Lions with their first ever TML 3 points makes them worthy winners of this weeks award.