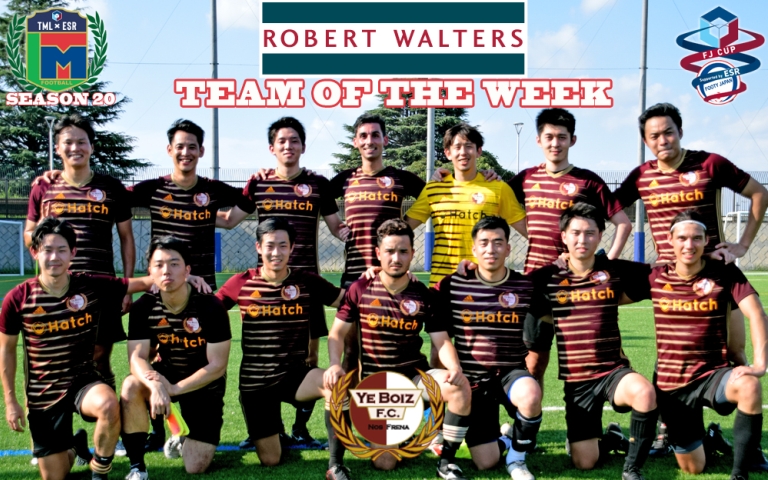 Robert Walters TotW (January 14)
Announcements -
January 17th 2023
The ESR FJ Cup kicked off it's first round of games with mixed results. Pumas, Dutch, Hibs, FC International, YCAC all proceeded to the next round after beating their opponents in a lower division. There were three cup games that stood out. FC International vs Jetro, with Jetro's Ryusei Ota completing his hat trick in the final minute to tie the game 3-3. FC International did eventually come out on top after the penalties. The second game was BFC Tokyo vs Sala FC, with BFC's Taishi Nakamura scoring a pair of goals to put Division 3 BFC into the cup while Division 1 Sala fall to the plate.
The last standout game was Division1 Suns vs Division 2 YeBoiz, with YeBoiz's preformance earning them the Robert Walters Team of the Week!
The game started off with both teams getting heaps of shots on target.
A brilliant display of individual skill and strength, Lawrence Yamaguchi (YeBoiz) scored the opening goal after beating 3 Sun's players on his own. However Kaiki Tomita (Suns) equalizes on the final play of the first half to tie things up. Kaiki Tomita wasn't finished though, within 3 minutes of the second half starting, he penetrates through the YeBoiz defence on his own and smashes the ball into the far post ricocheting into the net. But with more than 35 minutes left, it was still anybodys game. YeBoiz worked tooth and nail to get back into the game and it paid off. The last 30 minutes was a brilliant display of collective effort by all the YeBoiz players. YeBoiz scored their equalizer with 25 minutes to go, and turned the tables 10 minutes later with another goal. They scored a final goal in the last few minutes to put the nail in the coffin ending the game in a 4-2 victory. YeBoiz will proceed to the next round of the cup where they will face FC International.
Goal Scorers for YeBoiz FC were Lawrence Yamaguchi (2), Sho Enokido and Brandon Kenya.
Congratulations to YeBoiz FC for winning the Robert Walters Team of the Week!