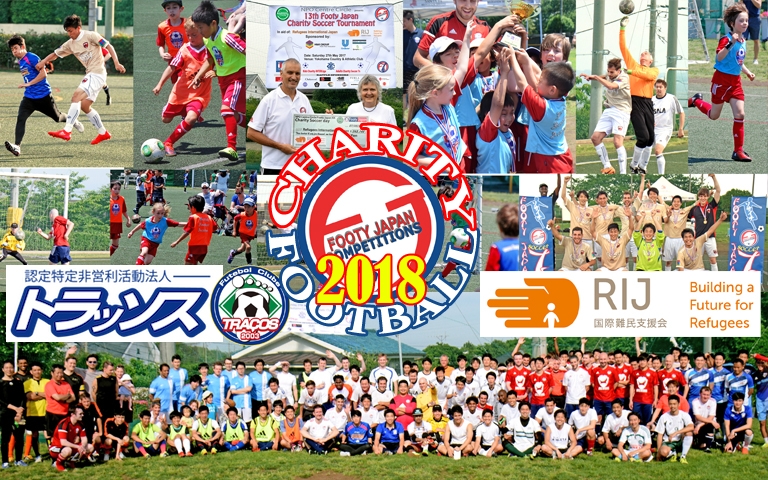 Charity Soccer Day 2018
May 26th 2018
Gold Sponsors
When: Saturday 26h May 2018
Time: Children's (U6, U8, U10 & U12) Tournament – 09:00am ~ 12:00pm
Adult's 7s Tournament – 12:30pm ~ 18:00.
Where: YC&AC, Yamate, Yokohama
Teams: Teams can register up to 12 players. On-field will use 7 players incl GK. Other players may sub on and off multiple times
REGISTERED TEAMS:
Cost: Team registration will be ¥25,000 per team
Registration Period: Registration will end May 18th, to register, please email competitions.ops@footyjapan.com
Charities: Money raised wil be divided between these two great charities: TRACOS & Refugees International Japan
Sponsors Wanted: If you or your company would like to help us with either a prize, auction item or sponsorship money, please contact us or download the sponsorship proposal form.
This year again we will be having a Charity raffle at the tournament so there is also the option to sponsor a prize.
Charity Raffle (to be drawn at the end of the 7′s tournament) Tickets will be available from April 1st, if you'd like to purchase some but don't know where, please contact us.
Prizes (List is being added to daily)
Mens bag from Salvatore Ferragamo.
Ladies handbag from Salvatore Ferragamo.
Mens backpack and Kids backpack from adidas
Kids baseball cap & Soccks from adidas
Mens hoodie & pants from adidas
One Night stay for 2 at the brand new Oakwood Residence Shinagawa
One Night stay for 2 at the brand new Oakwood Residence Nishi Shinjuku
1 hour full flight simulator experience at the JAL CAE Flight Training centre in Haneda for a group of up to 4 people.
1 Personal Training Sessions & 2 Group Sessions at Club 360
Surfing lesson for 2 people at Flying Sumo Surf Company
4 tickets to any Stand-Up Tokyo Headliner night at Good Heavens Comedy Club.


Hurry & get you raffle tickets, only ¥500 (you don't need to be present for the draw!)
Our Charity Efforts to Date

Total: ¥6,820,790
| Year | Amount Raised | Cup Winners | Runners-up | Plate Winners |
| --- | --- | --- | --- | --- |
| 2017 | ¥365,148 | Pumas FC | British Embassy FC | PwC Funs |
| 2016 | ¥356,163 | Pumas FC | YC&AC | Subarasshii FC |
| 2015 | ¥411,000 | Pumas FC | YC&AC | Bloomberg |
| 2014 | ¥315,000 | YC&AC | Footy Japan | N/A |
| 2013 | ¥832,012 | Hibernian FC | FC International | Johnson & Johnson |
| 2012 | ¥642,186 | Footy Japan | Swiss Kickers | Nepal Utd |
| 2011 | ¥1,055,756 | YC&AC | NSP | Swiss Kickers |
| 2010 | ¥520,000 | YCFC | YC&AC | Hibernian FC |
| 2009 | ¥302,215 | Footy Japan | YC&AC | British Embassy FC |
| 2008 | ¥652,955 | Kanto Celts | A.S. Azule | Robert Walters |
| 2007 | ¥478,355 | Armanis FC | YC&AC | Lions FC |
| 2006 | ¥560,000 | A.S. Azule | France FC | Celtic Supporters Club |
| 2005 | ¥330,000 | British FC | Geckoes | France Masters FC |