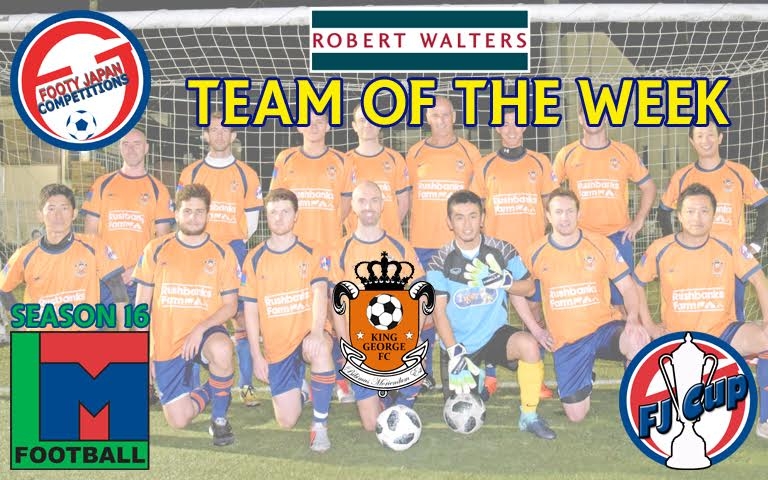 ROBERT WALTERS TOTW MATCHDAY 11
Announcements -
November 7th 2018
The FJ TOTW award started towards the end of TML14. Every team has gone on and won it once if not more. The first ever winners were non other than King George FC. That maiden TOTW award was almost the last time KGFC won anything!
Since that award, KGFC have always turned up early for matches with a large squad. That was until Sunday afternoon for their match v Albion Old Boys. The squad mail sent out last Thursday showed a solid 14 man squad. 10 minutes before KO 9 brave players were warming up at St Marys waiting for their 2 center-halves to arrive.
Stubbo arrived with a coffee in hand and 5 minutes later Sean Carrol made an appearance. The 9 players warming up all ran to our latecomers to start the team talk. Everyone was soon distracted by the fact that Stubbo was still clutching his coffee and had spilt some on his chin.
After a pause of silence to respect the passing of Guido the game kicked off. The game was competitive throughout and generally played in a good spirit. Some comical moments in both halves. Firstly KGFC scored a goal through Ryosuke Urai. The assist was something special. Bates was expecting to score a magnificent overhead kick, by the time the ball reached him he had already hit the floor and could only help the ball on using his shin pad. Stubbo even suggested I should be embarrassed by my attempt. 2 minutes later Stubbo was about to make a diving header when he soon realized it would be impossible and did his best Karate Kid impression to clear the ball. An equally embarrassing moment!
With minutes to spare AOB were awarded a PK, confusion over who would take it, this gave our keeper Brad time to compose himself and make a great save. KGFC cheered and held on to claim a 1-0 victory. After the game a KGFC regular mentioned he had not played in a game where we had won since the opening day of last season!
KGFC are delighted to be this weeks Robert Walters TOTW.