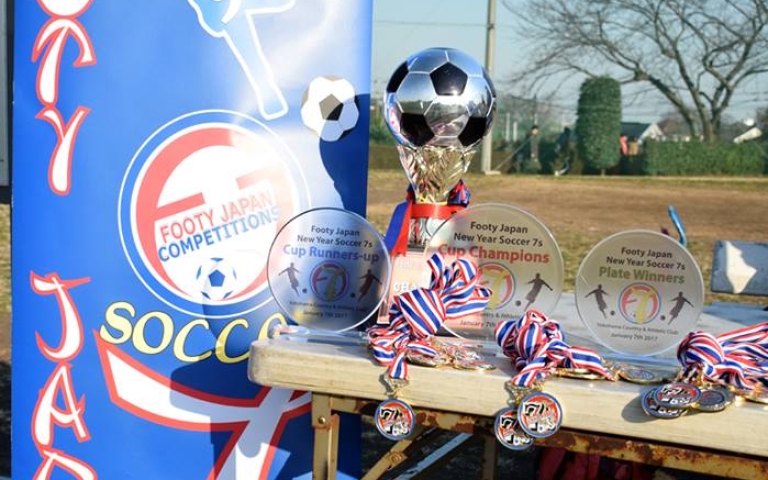 Tokyo Hibernian & Brothers A.D.D Silverware to their Cabinet
Announcements -
January 7th 2017
Firstly Happy New Year to you all. Time for another fascinating report. If you are one of my avid fans then you are aware even though I run the tournament I actually end up watching very little of the matches. Why I hear you ask? I am not totally sure but I am usually playing, chatting to people and generally making sure everyone is having a good time.
So like a good football reporter who needs to write 1000 words on a boring 0-0 I will try and pad this one out.
With Sid busy with our Football Academy it was down to me and my loanee roommate Dan Clark to carry all the equipment for the day by hand from Tokyo to Yokohama. Thanks Dan. We arrived early and Dan stood and watched me prepare the famous white board. Gradually players and teams arrived. We managed to KO 5 minutes late which is a great effort as one of the opening teams only had 5 players 3 minutes before they kicked off.
Group A was the 'Group of Death'. A few people thought this was all fixed but while I was home for Christmas I thought I would keep my elderly Mother busy and I got her to help me with the draw. She wasn't sure what the 'Group of Death' meant but the 3 Division 1 teams and Fussa FC certainly did. Fussa narrowly lost to Panthers 1-0 and 7s specialist Pumas drew against a strong looking Hibs team.
Group B saw Kanto Academica and Inter MinatoMirai play out an entertaining 3 all draw. Kanto Academica took a 3 goal lead but threw it away. It was the start of a long afternoon for the Kanto team. HellCats defeated a FC International 3-1 in a heated match.
Group C saw 3 new 7s teams play for the first time. A.D.D Yamanashi were made up of South Americans, Tokyo Brothers were another all Nepalese team and Adidas FC were all Adidas employees. the 4th team was Shunsuke FC who reached the Cup Semi Finals in the Summer 7s.
Two close matches saw Yamanashi beat Tokyo Brothers 3-2 and Adidas FC beat Shunsuke FC 3-1.
Group D was an all TML affair. Sala FC played BEFC and won 1-0. BFC Tokyo beat the home team YC&AC 3-2.
The mid round matches saw some teams on the wrong end of a hiding. Kanto Academica hit the crossbar in the opening minutes v FC International. This seemed to anger FCI who decided to score at every opportunity and win 7-0. FC Shunsuke then lost 7-1 to A.D.D Yamanashi. The Group of Death saw Pumas beat Panthers 3-0 which will give them a confidence boost going into this weekend's FJ Cup match. Hibs stayed strong to beat the youthful Fussa FC 2-0.
The final round of matches saw teams push on to try and secure the famous bonus point which for some teams is the difference between the Cup knockout or the plate. Pumas secured an extra point by defeating Fussa 3-0. This was enough to top the group as Hibs were only able to score 2 past Panthers. The Summer Cup finalists Panthers were to continue the tournament in the Plate along with Fussa FC. HellCats like FC International were clinical in beating Kanto Academica. Won't mention the final score but it's the biggest I have seen in my 18 odd tournaments. Shunsuke FC scored 5 past Tokyo Brothers but it wasn't enough to secure entry to the Cup knockout.
Onto the knockout rounds. The Plate Quarter Finals saw 3 and half close matches. The half being the Panthers v Kanto Academica. Academica went defensive and it worked perfectly for the first half of the match. Sadly it didn't go so well in the last half as the floodgates opened and Panthers were easy victors. Shunsuke FC beat YC&AC 2-0 and Fussa FC defeated Inter Minato Mirai 2-1. The last match saw the 'Battle of Britain' between British Embassy v BFC Too. The game saw BFC Tokyo win 2-1. A nice warm up for their FJ Cup match this weekend too.
The Semi finals saw FC Shunsuke beat Panthers easily 4-0. It got a bit heated towards the end of the match but nothing that Referee Nick couldn't handle. Fussa narrowly lost to Tokyo Brothers 2-1 to reach the final in their maiden tournament. The Final was an 8 goal thriller. The match was played at a great pace but the Tokyo Brothers were 5-3 victors. Not a bad debut from the Nepalese lads.
The Cup knockout rounds saw some great games. After finishing top in the Group of Death Pumas were feeling confident against FC International. Genki Nakamura had arrived on the scene to aid FCI day. He was the difference scoring once in a 3-2 win. A.D.D Yamanashi were progressing well and defeated a good Sala FC team 4-2. Adidas FC had reached the Cup knockout round due to the a bonus point and they were up against BFC Tokyo. At this stage someone pointed out that all the Adidas FC players were wearing number 3. 3 for the amount of stripes. Nice touch. Back to the actual match. Adidas scored 2 and BFC could only score 1 so Adidas went through to the Semi Finals. Hibs v HellCats was a great game in the last Quarter Final. HellCats were one up and Hibs kept putting the pressure on and it worked with Mike McKenna scoring a header within a few minutes left. It went down to Penalties. 7 penalties later and Hibs were celebrating and HellCats were heading home.

The Semi Finals saw A.D.D Yamanashi beat FCI 2-1 to also reach their first final on the first attempt. Hibs then defeated Adidas 3-1 to stop it being an all new boys final.

The tournament had been played at a very high level and the Cup Final was no different. A.D.D scored an early goal. The game was end to end and it was a feisty one with tackles getting later and harder. Hibs were the physically bigger team and went more route one in the final few minutes. I was worried that the final was going to get out of control by Quentin did a great job in keeping the players under control. Hibs scored an equaliser and a minute later, A.D.D failed to clear the ball from the area and Luciano Olier was at the back post to score the winner. It was great to see both players all hug each other at the end of the game to show that sportsmanship is still very much at the heart of the game.
Congratulations to all the finalists and to Tokyo Brothers and Tokyo Hibernian for winning both the Cups.
Big thank you to YC&AC for hosting us and also the 5 referees who did a great job. (Quentin, Nick, Manuel, Tom & Romen).
To view photos from the day please click here.
All the best for 2017.
James.
Gallery