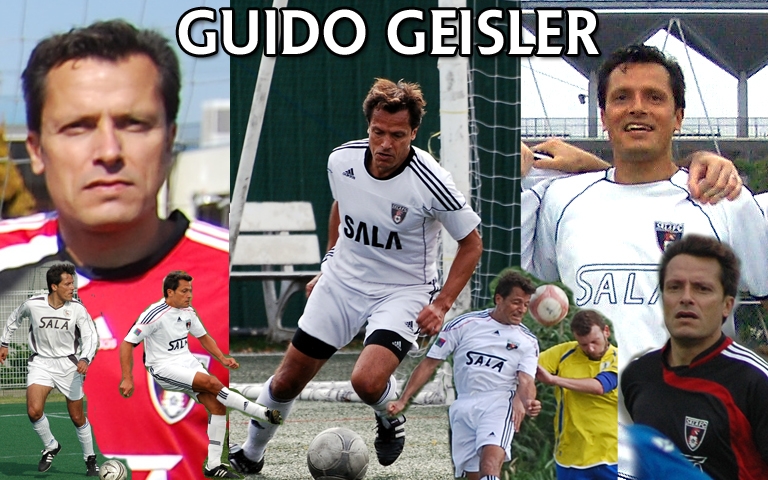 A tribute to GUIDO by SALA FC Captain & close friend - Lenny
Announcements -
November 9th 2018
Dr Guido Walter Geisler 52yrs - SALA FC Player Coach Captain - PHD Sports Psychology University of Toronto - Associate Professor University of Tsukuba (TIAS) - UEFA B Coaching badge - Nationality German/Canadian
I first met Guido early 1997 in Tsudanuma. Guido had just started at Nova and I was paired to mentor him in his first demo lesson....
There were a few Nova lads at that time who played football, and in the same year we started playing Futsal on Wed mornings and Sun evenings. These were the beginnings of SALA FC, thus Guido became one of our founding club members, together with Clarkey and Giles. We were soon to find out that Guido had played at a competitive level in his younger days, and was part of the football coaching staff at the University of Toronto, with whom he'd had a long association with prior to arriving in Tokyo. Thus Guido took the role of mentoring / coaching within Sala FC from the early days.
Our Futsal group meetings just happened to take place at our local pub, which was a tent pitched in a car park and was called "SALA" - hence the birth of the club name and the first sponsor. It's noted that most of our recruitments took place in SALA, which proved rather successful in those days.
In the year 1998/99 we formed an 11s and joined the old IFFL league. We switched to the TML pretty much from its inception in 2004. We took turns at leading the team, and Guido would either be Captain, Vice Captain or Coach throughout his SALA playing years.
SALA FC had started as a pub team, and Guido played a big hand in helping us to the next level - thus we stayed in the 1st division for 10 seasons...not bad for a pub team.
In the early TML years some of our great rivals were with HIBS and BFC et al. Guido especially enjoyed a competitive match, and I cannot recall him ever losing an aerial battle. Guido encouraged everyone to step up, and this was highlighted in our pre game warm ups which for some of us were more tiring then the game haha, but Guido's passion was exemplified during our warm ups, which were always well prepared and targeted specific focus points for the game in hand. After the match with a pint in hand we would re-live those special moments and laugh together...
Guido took pride in mentoring the lads, and ran all our training sessions and pre game warm ups. What stood out was Guido's meticulous attention to detail, as prior to training and warm ups he would send out a 6 page presentation with drills and tactics to study. Some drills were taken from a workshop he might have attended at Toronto University, or with the German Football Federation or while attending a Bundesliga team training session. Guido had quickly moved from Nova to Tsukuba University as an assistant professor in the Sports and Science Faculty, and then upwards to Associate Professor, as well as attaining the UEFA B coaching badge from the DFB German Football Federation. Thus many football connections were madealong the way, and needless to say some of our lads, including me, needed to take a quick wake up pill just to take in what was required with some of the more complex drills. Even so, we enjoyed every minute of our training sessions as they challenged us to become better players, plus the beers afterwards tasted better.
Guido was always in the mix of anything SALA. He was passionate about the game, and although he appeared serious on the outside he had a big heart and was always ready to lend a hand. His love of the game and for his students/work projects, and for anything beach-oriented, stood out. He looked forward to the summer, and spent his spare time at the beach with his mates, either perfecting his Frisbee skills or kayaking along the shore. I reminisce about those late evenings we spent after football sitting on our Mama-Charis outside the Kaihin-Makuhari bicycle-parking lot, talking football and life's little challenges.
We will miss Guido's friendship, his integrity, passion and commitment to everything he put his mind to. He inspired us to lift our game and I wake up sometimes thinking of what drills to set up haha.... yes his drills will live on, as will his pragmatic approach and magnetic personality. He will forever shine on SALA's horizon. Thanks for everything Guido - a true gentleman, a friend and football mate!
Cheers from all your SALA and football mates for its been a pleasure mate, so many wonderful times together will live on.

​SALA FC Captain Lenny.