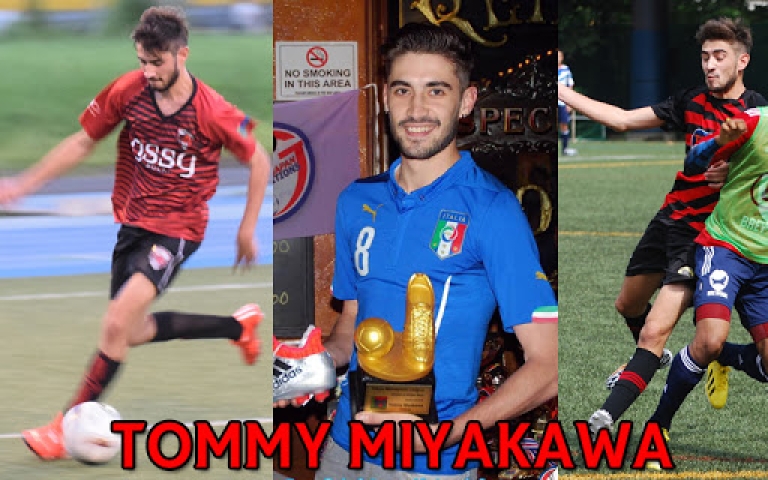 PLAYER PROFILE
TML Interview -
May 9th 2018
If you have played against Pumas in recent years then you would have probably played against this young man. He loves Football but he may love the antics that happen after a match more! Let's get to know the TML's Antonio Casano a little more!
Name: Tommaso Miyakawa
Nationality: Italian
Team: Pumas FC
Position: Full back
Number of years in the TML? 4.5 years
What do you like about the TML? I Love the mix of nationalities and styles of football that come with it. Also the fact that while everyone is here to enjoy playing football no one wants to lose a game which makes it even more worthwhile.
Which player would you compare your style to? Very uncomfortable comparing myself to anyone, I can say I look up to Stevie G as a player I guess and try to incorporate his leadership and grit in my play.
What is the highest level of football you have played at? A futsal match with David Trezeguet!!​
What makes your club special? What is not special about Pumas?? Great play style, never die attitude, great captain (Richard Austen) and coach (Kenta "Jurgen" Kimura), and amazing teammates with whom I enjoy every moment on and off the pitch and for whom I would die for!
Where was your first ever TML match and what are your memories? It was a Division 3 game against Nepal, came on as a sub and scored the goal that got us a draw. From the very first moment I knew I would love playing for this team and with the lads, I remember everyone cheering together and of course the customary beer after the game, one of my favorite parts of it. Pumas FC has progressed a lot since I first joined!
Favorite TML venue and why? YC&AC. My home pitch and also where I used to play during my high school days.​
Best player you have played with? Anyone in Pumas of course, but if I have to single one out it's gotta be Jimmy, our legendary Swede, comparable to Zlatan. Otherwise Alessandro Del Piero.​
Who is your best mate in the team? Very tough again! I'm going for a double in Andre Herath and Joel Gulasch, Trio Maravilla for life! Sorry everyone else, love ya!!​
Funniest moment before, during or after a TML match? Again, too many! Let's go for one of the most recent ones.... Kevin Le Bras asking for an Ichigo High at an after game drinking session. Of course he only got a blank stare from the waitress and his teammates and had to get a beer instead. Next time Kev!​
Tell us some amazing facts or interesting experiences you have lived through? Had a bunch of great experiences because of my Italian/Japanese heritage which always gave me the opportunity to meet amazing people like the crazy group at Pumas, but most are either too embarrassing or inappropriate so no comment, only way to know about them is to go for a drink, then things will unfold naturally.
Any other comments? We are aiming for the League and Cup double next year, so all other teams, look out for Pumas FC!
Captain's comment? My two favourite Tommy moments were 1. When he won the 2016 / 2017 Golden Boot for Division 2 with 15 goals....all scored in 2016, and 2. When he scored a great goal in a crunch match against Barbarians last season to keep us in Division 1. After Pumas FC went one-nil down Tommy gets the ball in the opposition penalty area, he has a clear sight of goal so everyone yells "Tommy, Shoot!"....Tommy, fakes to shoot, sends the defender next to him the wrong way and slots away the chance as if it was a friendly game or something. Off comes the shirt in celebration and Tommy gets booked, of course. Went on to win two-one and stay in the division! Tommy has been with Pumas FC since our rise from Division 3 to the upper echelons of Division 1....couldn't have done it without him!! Cheers Tommy!!!! ​