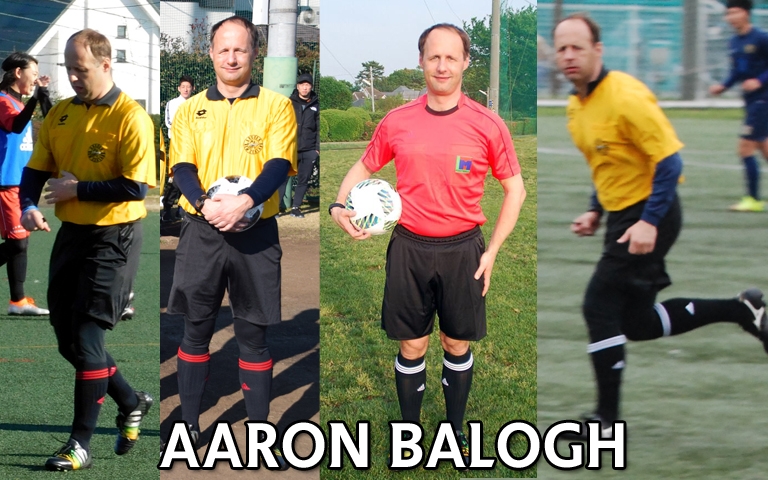 REFEREE PROFILE: AARON BALOGH
TML Interview -
January 18th 2019
Name: Aaron Balogh
Nationality: New Zealand/Hungary
Number of years refereeing in the TML? This is my 10th season, over 500 games.
What is the highest level of football you have refereed at? In New Zealand I was the member of the national reserve referee's panel alongside with the referees who were selected to represent NZ in recent World Cups, so I wasn't doing bad in my 20s as a referee. Also I reffed in the Hungarian fourth division for a couple of seasons which was tough job to do.
Have you ever played the game at a decent level? What position did you play? Nope, but I wasn't a bad futsal goalkeeper.
What makes refereeing in the TML so special? Everything. The players, the grounds and of course the atmosphere.
Favorite venue to referee at and why? Komaba. It is only a 10 minute walk from my House in Urawa.
Do any games in particular live long in memory? If so which one and why? Yes, when I asked the most famous TML player ever (ex-Man Utd goalkeeper FC International's Ricardo Felipe Lopez) for a selfie before the game in which I had to send him off after his second yellow card. So, to my referee colleagues, never take a selfie before your game with a player. :)
Best player you have seen play in the TML? Had many. Apart from Ricardo, ex Panthers' Icelandic pro player Orri Gustaffson, ex AOB player Luxembourg international, Florian Meteos and the most recent one, FC International's Kazuo Honma who was the Hungarian Premier League's best goal scorer 8 years ago.
Did you caution them? Well, Ricardo yes, many times, but never the other three.
Worst challenge or incident you have witnessed since you started in the TML? A couple of months ago, a tackle from behind, broken bones, torn ligament and dislocated ankle in front of me. Never forget that.
Tell us some amazing facts or interesting experiences you have lived through?I have two interesting hobbies. One of them is travelling, I have already been to more than 50 countries and have lived in 4 continents. The other one is my favourite banknote and coin collection of 230 countries. You know, I love geography.
Any other comments? Well, first of all, being a TML soccer referee is one of the most valuable experiences I've ever had, even if it's sometimes one of the hardest. Secondly, refereeing at TML has taught me to be understanding and not thinking that I'm always right all the time. But even when I am right, I can still understand the players' point of view.
Lastly, would like to thank Sid, James and all the TML staff for managing and organising such a great league. James, you will be missed for sure!