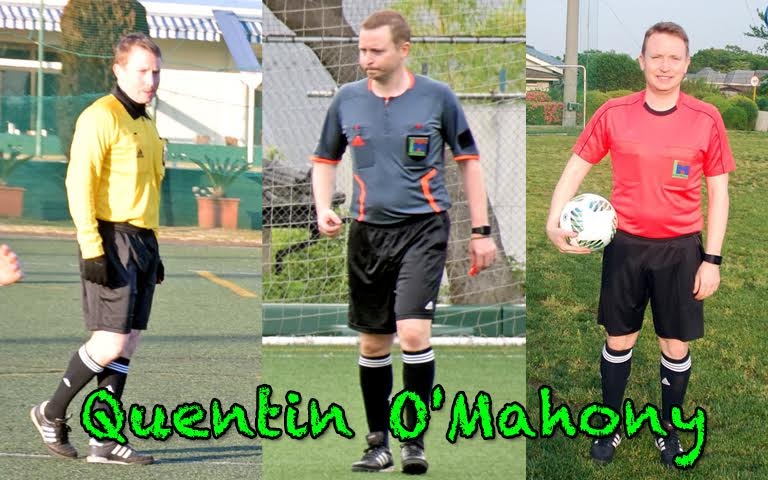 Referee Profile: Quentin O'Mahony
TML Interview -
February 9th 2018
Name: Quentin O'Mahony
Nationality: Canadian (Born in Ireland)
Number of years refereeing in the TML? 9 years. Was here in year 1!
Highest level of football you have refereed?
J-League Reserves 2007 & 2008 Referee and Assistant Referee (Biggest match was Verdy Div 1 vs Kashiwa Reysol Div 1)
A-League (pre-cursor to MLS) 1998, 1999, 2000 & 2001
Refereed annual Waseda University vs. Keio University football match 2009 at the national stadium in Jingumae
What makes refereeing in the TML so special?
The social element of the league. Overall a good bunch of guys on and off the field. I referee week in and week out and wouldn't want to give it up. Couple that with mid-week
futsal I join, referee social meetings, year end parties, etc. it is nice change of pace from my weekly work life.
Favorite venue to referee at?
YC&AC because I can get to the pitch within 1 hour from my home, has a separate shower room for the referees and the pitch is in good shape.
Any games live long in the memory?
As a referee, you need to have a bit of healthy memory loss or you would struggle to get past some of the tougher matches. Luckily my TML matches have been overall positive so while there were some good battles I have officiated over the years there is not one that lingers for the wrong reasons. However, in my earlier days of refereeing there was the occasional match that left me lying awake at night. Like when Ossie Ardiles of Argentina 1978 World Cup winner and Tottanham Hotspur fame tore a strip out of me for not sending off a Kashiwa Reysol player in a match against his Tokyo Verdy in 2008. But in refereeing circles they say that the 4 th official is worst job you can have. From a series of unfortunate incidents in my earlier days I would tend to agree. There was the tunnel bust up between Canadian Soccer legend and Vancouver Whitecaps (MLS) President Bobby Lenarduzzi and Minnesota United General Manager that I had to deal with during the half time of a North American Cup semi-final. There was the on-field brawl between those same Whitecaps and the Los Angeles precursor to the Galaxy in 1998. But as for an experience long in my memory there was one match in the Dallas Cup in 2000 when in the under 18 Super Division knock out stage I was the 4 th official for West Ham United vs. Corinthians (Brazil). An ill-tempered match with Danish referee Kim Milton Neilson of the David Beckham kick out red card fame from the 1998 World Cup in charge. Mr. Neilson awarded a baffling penalty against West Ham which led to howls of "cheat" coming from the West Ham management to which naturally the Corinthians management took offence. While I am attempting to physically separate the two sets of managers and staff, both allegedly containing world cup winners from their respective countries, Mr. Neilson looks over at me shrugs his shoulders and restarted play. He knew better than to get involved but he left me in the preverbal s*it. What doesn't kill you makes you stronger as they say.
Best player seen in TML?
There are many good players in the league spread across the divisions. In fact some of the Division 1 matches at times rival the pace and finish of professional games I have been involved in as a referee.
However, if there is one player to choose I would choose (*Swiss player, can't recall his name but on the TML web site team photo (white), front row first person on the left side). Always been really impressed with his skill and attitude towards the game. He is a difference maker and I wonder to what level he played to in his younger years.
- *Player is Shimon Kato.
Did you caution him?
Yes, I have cautioned him at least once but nothing memorable about that so it was not for anything malicious.
Tell us some amazing facts or interesting experiences you have lived through?
Once had a scotch with Sir Rirchard Branson because he thought I was hitting on his mother. Good story there.
​Partied with Carmen Electra at her Montreal F1 party. Another good story there.

Ended up bumping into and then joining half the Irish football team in Seoul on the piss after they were knocked out of the 2002 World Cup. Not much more of a story there other than Niall Quinn is a top man!

​

As a young political intern in Canada had the Speaker of the House hit on me at a wine and cheese event. There's a lot more to the story there but can't put it in print.
Any other comments:
The Footy Japan team have created a great international football community for us in the greater Tokyo area. I appreciate it and look forward to many more good days and nights out with the league.