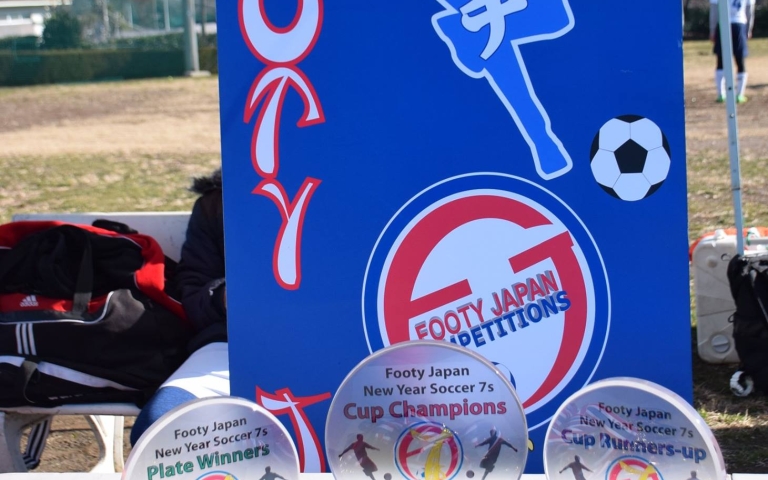 Swiss Bruno win the Silverware
Announcements -
January 6th 2018
Swiss Bruno sounds like a persons Porn name (Mothers maiden name & Your first pet) but Swiss Kickers and Bruno FC showed that they had the stamina to go all the way in Footy Japan's first tournament of the year.

On a Glorious sunny day at YCAC, 16 teams battled hard to win our famous trophies and medallions.
The tournament was a great success. We had 4 new teams particapting, plus the usual FC International, Pumas, Swiss etc and also TZFC made a welcome return.
Not to bore you too much with the group matches, I will just mention a few notable results. FC Shunsuke, who were the Cup Runners Up in the Summer 7s kicked the day off by knocking 5 past YC&AC. DAZN FC started their first 7s by 'Streaming' forward and beating KGFC 1-0. Sala FC v BASE04 scored an impressive 9 goals between the with Sala scoring 6 of those.
By 1pm, 24 matches had been played and it was time for the haves to hit the Cup and the have nots to play in the Plate.
KGFC plan was to reach the Plate which they did. They had lost 2 matches 1-0 with last minute goals but had played well and were confident of beating anyone in the plate that was until we were drawn against FC International. Within the first minute Sid had missed 2 opportunities, would these misses be costly? Surprisingly not. The next 3 attacks all resulted in goals and KGFC were 3 up. Was this happening? FCI then got one back but KGFC attacked again and scored. Final score 6-1. It goes down as the greatest result in the Clubs history.
TOMO FC defeated YC&AC 5-2, Bruno beat Judev 1-0 and BASE04 knocked out Lions FC. The Semi Finals were close matches. Bruno v Tomo which sounds like a mid 90's boxing match saw Tomo FC being knocked out. Base04 v KGFC was a thriller. 3-2 to KGFC. The winner coming from a Nikolai overhead….Whoof.
The final saw Bruno FC defeat KGFC 3-1. Not a bad debut performance!
The Cup ¼ Finals saw Shunsuke score a winner from the kick off which knocked out Sala FC. Suns FC continued their good form and scored 3 past TZFC. Swiss strolled past Subarashii and a last minute Pumas goal took their match v DAZN to PK's. This was to be the only PK shootout of the day. Pumas scored all 3 and DAZN missed one meaning they headed to the bar!
I have to admit I didn't see too much of the Cup Semi Finals and one of the referees didn't write the result down so I am not sure on the score but all I know is Shunsuke beat Suns to reach the final. Swiss and Pumas are both specialists at 7 a side and are both multiple finalists. Swiss won this close encounter 3-1.
So Swiss v Shunsuke FC. Two teams with young and athletic players. The match started with a good tempo but that's all I can really tell you. I was busy packing up so missed most of this one. Swiss Kickers won 2-1. Shunsuke FC will be looking at the Charity 7s in May to make it a 3rd time lucky.
Well done to Swiss Kickers and Bruno FC.
Special thanks to my 5 referees; Quentin, Tom, Paul, Romen & Manuel and also all the staff at YC&AC.
All the best for New Year.
To view the Tournament photos please click HERE.