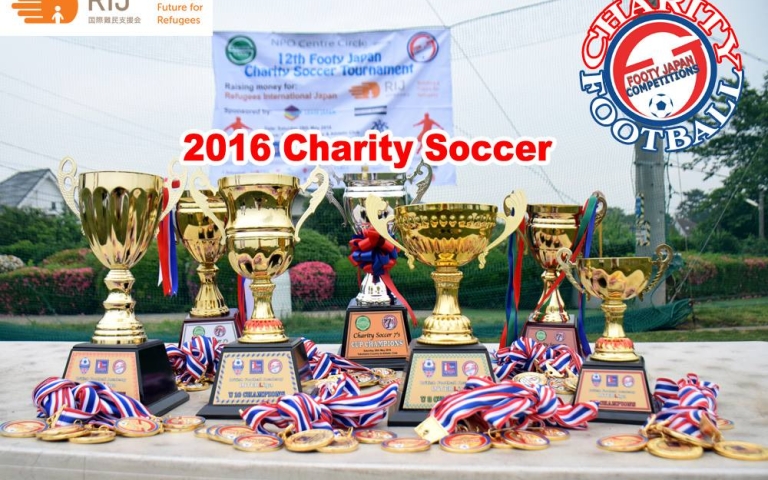 A Subarashii day for the Pumas
FJC News -
May 28th 2016
Football is a special sport in so many different ways. It keeps you fit, it creates friendships and the occasional rivilary. It's played by people of all ages and also people from all walks of life. Saturday was the culmination of all the above sentences. Kids aged 5 to adults aged, well let's just say well into middle age, all competed in our 12th Charity Football day. For the second year running we combined our usual Charity 7s tournament with a kids INTERLiga tournament and was raising money for Refugees International Japan.
With the daily news coverage of the refugee crisis, this year's charity seemed particularly relevant. We have supported RIJ for many years and we hope we will continue to do so.
After a successful morning which saw more than 70 British Football Academy students plus kids from YC&AC and also KAIS EMS School compete in some very close matches. It was time for the adults to kick things off.
With a cap on 12 teams, I was delighted that earlier in the week FC International became the 12th team to enter the tournament. Last in but first to KO. They certainly kicked things off with a bang by banging 7 past one of the two British Embassy teams. New Year 7's holders Tachikawa01 were held to a 1-1 draw by the superbly named Budgie Smugglers.
Group B saw 7s regulars Subarashii FC lose a tight fought match to Inter MinatoMirai 3 goals to 2. Pumas continued their good league form to defeat YC&AC 3-0.
Group C kicked off with Kanto Masters losing to a well organised BEFC Lions side. Far East Ham returned for their first tournament of the season but couldn't hold on to a point as WannaBFC defeated them one goal to nil.
The tournament was running well and players were beginning to find their shooting boots, Pumas scored another 4 past Inter MinatoMirai, and then went one better by scoring 5 past Subarashii to top their group. FC International knocked 6 past Tachikawa01 which was probably the shock of the group stage matches. They went on to beat the teachers of Kanda University(Budgie Smugglers) 2 goals to nil to secure top spot in Group A. BEFC Lions weren't knocking the goals in as easily but they were not conceding. They finished top of group C with no goals conceded.
With all the players gathered in for the group Charity photo, it was left to me to sort out the seedings and who would go into the draw for the Cup and Plate. The Cup draw was made and Tachikawa01 were to play FC International again. Once again FC International came out comfortable winners, this time winning 4 1. Pumas only knocked 2 past the Budgie Smugglers but it was enough for the Smugglers to take off their speedos and head to the bar. Inter Minato-Mirai were warming up nicely and knocked BEFC Lions out to reach the semi finals. YC&AC with their mix of youth and experience destroyed WannaB FC 4 goals to 1.
The Plate semi finals are always great for teams who have been struggling to keep up with the day. Subarasshii FC v Far East Ham was a tight encounter which saw Subarashii squeeze through 2-1. The other Semi Final saw Kanto Masters finally come to life with Hayden Thomas leading the line to score 2 of the 3 goals which sent the Masters to the Plate Final.
The Cup Semi Finals saw newly crowned Division 2 Champions Pumas take on FC International. It was a great semi final but the more youthful Pumas won 3-1. If you are still reading this, then well done, and I am sure you are thinking where are the PK's? Well keep on reading please. After an action packed one all draw Inter MinatoMirai and YCAC both had to hold their nerve to reach the final. With both teams missing their 2nd penalties and scoring their 3rd spot kicks, it came down to the dreaded sudden death. Next two penalties were scored, the 3rd was well saved by YC&AC goalkeeper Karl Hahne. He then went up to take the next penalty. He was overruled by a younger player. Karl walked away in disgust and was heard saying "He bettery bloody score", moments later he was running towards the youngster and embraced him in a big well done man hug.
So onto the finals, Young Jonathan was penciled in to referee the Plate final. He was soon switched as he had a Cup final to play. Luckily Kazu had arrived early for his evening matches and took charge. With one victory each Subarashii and Kanto Masters were both up for it. Subarashii took an early lead. Captain Thapa kept urging on his team to attack more. This made the game more open. Kanto Masters equalised with a delightful no look volley from Scouse Mike. With the game looking like it was heading to 5 minute 'Golden Goal' time, Kanto Masters lost the ball on a quick counter attack, unable to get back in time Subarashii slotted the ball in the bottom corner and scored with the last kick of the game. This was Subarashii FC's first trophy in our 7s tournament and they looked delighted.
The Cup final was being played at a good pace. Ryosuke and Hiro scored early goals for pumas. YC&AC tried to get back in the game but Pumas scored a 3rd after a lightning quick counter attack. Victory to the Pumas who completed a unique treble in the space of 3 weeks. FJ Plate Winners, League Champions and now Charity 7s Cup Winners.
Thank you to YC&AC for hosting us all day and also to Quentin, Steve and Jonathan and a special mention to Kazu who all did a great job refereeing on the day.
We are very pleased to announce that we raised ¥356,163 for Refugees International Japan. This would not have been possible without all of our sponsors from our Silver sponsors Relo Japan, to our bronze sponsors Robert Walters.
Also much money was raised from the raffle so big thanks to all the companies who donated prizes and also to all the hundreds of people who purchased tickets.
To view all photos from the day, please click on the links below.
Kids / Adults
A huge thank you to all of our sponsors who helped us raise a total of ¥356,163.
We look forward to seeing you all again at next years event.