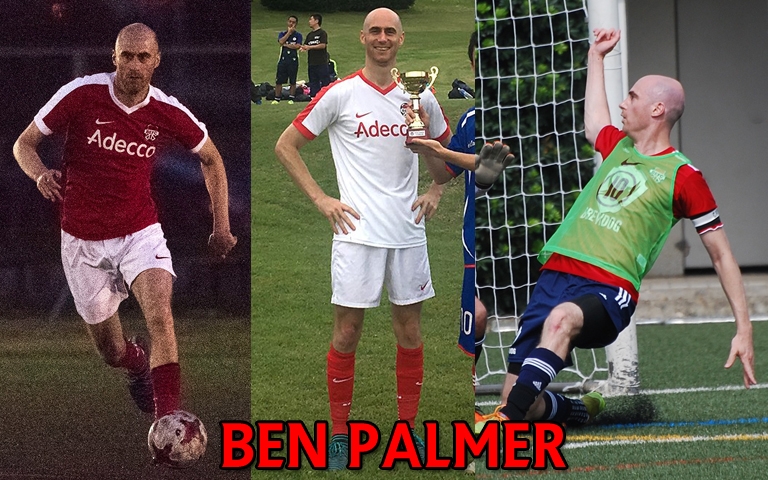 PLAYER PROFILE
TML Interview -
May 11th 2018
Next weekend will see British Embassy in their first FJ Cup Final since the TML started 15 years ago. The Club's recent success is mainly due to this man. Let's get to know the Player/Manager a little bit more.
Name: Ben Palmer
Nationality: British
Team: British Embassy (BEFC)
Position: Captain
Number of years in the TML? 4 years
What do you like about the TML? The diversity of the teams is great, but I also like the history. There are plenty of stories and old rivalries between teams that make the match ups even more interesting. Playing on decent pitches is nice too. While some people don't like the distances the AG is so much better than football on grass that in most local leagues I've seen turn to dust and mud within the first three weeks
Which player would you compare your style to? Mauricio Pochettino - much better at management than he was a player ;)
What is the highest level of football you have played at? On the park with my mates and I went to Bobby Robson's football camp once. So maybe the TML. ​
What makes your club special? How long do you have? BEFC is one of the oldest foreign football clubs in Tokyo dating back to 70s Japan when BEFC and the British Football Club (BFC) were the one and the same team. While BEFC is tied to the British Embassy it long ago shed anything to do with nationality as we have over 25+ members from various countries. We consider ourselves a Club, not a team and have two 11s teams who play in the TML, a futsal club and currently the only International Ladies Team in Tokyo.
Where was your first ever TML match and what are your memories? I remember turning up for BEFC against JETRO at Fukuda Denshi at the end of a season. It was a relegation battle with the loser going down. It seemed at that time BEFC were struggling for numbers as I think I made up the 11th man and some players thanked me for turning up. I got put at left back, the sun gave into rain, we slogged on through the downpour to come out winners 3 - 1 and survived the drop.
Favorite TML venue and why? YCAC - it has a sports bar for afterwards.
Best player you have played with? On a technical level it's probably Kentaro Takahashi from our own team on his debut season. He regularly scored from corner kicks and even the halfway line from a kick off. He's recently learnt how to header so he's going to be even better. We were going to strap a football boot to his head to encourage him to get over the fear of becoming a baldy but he managed it by himself. ​
Best player you have faced? Well that has to go to my nemesis, Fuyuki Nakatani from Sala FC. Since I joined BEFC until our last match BEFC had never beaten Sala. The reason for this is that just as it looks like we might pull it off Fuyuki Nakatani goes and scores. He's strong, skilful and plays very smart. I once doubled teamed him with Ewan Walton as part of a game plan… it didn't work. It's become a running joke I mention to him before every kick off… and he still scores. In fact the equalising comeback goal for Sala's 3 - 3 draw at the start of the season - he scored it! We finally beat Sala….. he wasn't playing.
Who is your best mate in the team? Captains don't have favourites… so I'll say the immortal Keith Crowley, who while not turning out to yell at his own team in goal anymore keeps his cat-like reflexes honed at BEFC Wednesday Futsal. Keith got me involved in BEFC fully and we shared a lot of chats about footy and life over beers. Also it was he and Rich Sciver who press-ganged me into becoming Captain, so he'd need to be a good mate in order for me to agree to such a stupid idea.​
Funniest moment before, during or after a TML match? For some reason all the funniest moment seem to involve bookings. My favourite has to go to James 'Caner' Cane in a match against exemplars of fair play and sportsmanship, and former TML team - Syu Syu Aoyama. After repeated 'questionable' offside flags from the linesman, Caner who had been seeking his debut BEFC goal all season was put clean in, smashed it in and celebrated with aplomb. The eagle-eyed Syu Syu linesman in the spirit of a balanced contest considered Caner's late run possibly a form of 'Quantum Offside', raised his flag and the ref disallowed it. Having this happened numerous times already Caner took justice into his own hands by approaching the voluntary official with extremely colourful language. The entire pitch stood still as Caner intensely 'scrutinised' the linesman's dignity. Reaching his third crescendo of accusation Caner emphasised his viewpoint with a word reserved for well past the watershed (unless you are Australian). As it dropped like a bomb to following deathly silence, Simon the ref calmly jogged over and brandished the Red card. Caner's rainbow coloured mist vanished, he covered his face in his hands, apologised to the ref and his audience profusely and then bounded off the pitch to the rather inappropriate laughter of his girlfriend. The best part is Caner was our media guy, and his girlfriend had filmed the entire match. Caner made a brilliant video released as 'Don't Cross the Linesman' - an award winning BEFC Christmas Quiz video round! No you won't find it on youTube. Mark Kuroda and his terrible crime at the AMIA Futsal competition is a deserving second. Moctar Diouf clowning a poor King George defender who then tried to foul him in revenge by pushing him into touch only to epically fail and embarrass himself further deserves a mention. And finally Go Oomichi invoking the spirit of 'POUNDERRRRR' by yelling it everytime he jumped for a header in a friendly against Kodansha. ​
Tell us some amazing facts or interesting experiences you have lived through? I'll keep it to football, it's less incriminating. I've scored 2 goals that I dreamt about a week before. I knew where I had to go, where the ball was going to be etc. I recognised it because I clearly remembered the dream. So that was a bit freaky. I did exactly as the dream and I scored. It's happened twice. Doesn't seem to work when I try to score on purpose though! However for BEFC over 4 years I have played in every position. The time I finally got to play striker in a TML league game I scored a double hat trick affectionately called the 'Double Rainbow', albeit against a 9 man opposition. I subbed myself off after the first hat trick but someone got injured and brought me back on for the 2nd half where I got the second. I play Center Back for BEFC btw. Because someone has to :P
Any other comments? I think you should have a TML All Stars game. I don't expect to be in it.