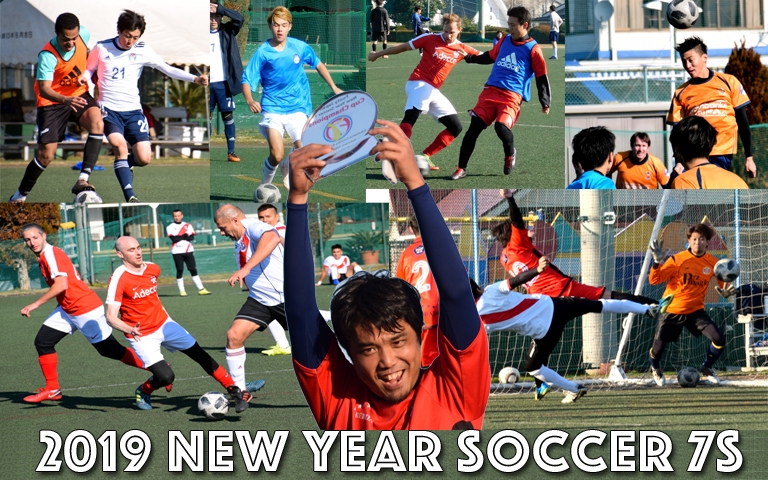 BFC TOKYO CLAIM FIRST SILVERWARE OF 2019
Announcements -
January 10th 2019
Rarely has a year brought so much uncertainty. Brexit, a change of TML leadership and who knows what the new era will be called or be like in Japan? So many questions, yet so few answers. We can only go on what we know, so what do we know so far?
We know that Tenshin Nasukawa is not as good at boxing as Floyd Mayweather and also that BFC Tokyo and King George have won some silverware.
Saturday saw the first Footy Japan 7s tournament kick off at YC&AC. 10 teams played in 2 groups all battling to progress and avoid the wooden spoon of a 5th placed finish.
Group A was packed full of TML talent. BFC Tokyo, British Embassy FC and King George were joined by Peru FC and TZFC Open.
Group B saw tournament regulars Ye Boiz FC, Shunsuke FC & TZFC Masters in the same league as newboys Lads FC and FC Nomades.
BFC Tokyo dominated the group from start to finish. They scored 6 in their opening game and also knocked 3 past KGFC. They ended the group stage on top and had the all important seeded position for the Cup Semi Final.
Second place went to Peru FC, who were the only team to take points of BFC with a scoreless draw. They were defensivly strong and didn't concede in any of their 4 group games. King George finished ahead of BEFC due to the bonus point rule after scoring 3 past TZFC Open.
Group B saw Ye Boiz and Shunsuke FC battle for top spot. Shunsuke FC had the best result in the group when they knocked 6 past FC Nomade's. New Boys, Lads FC, grew into the tournament and beat Ye Boiz 3-1 in their penultimate match.
Shunsuke FC won the group on goals scored from Ye Boiz. Lads FC came 3rd with FC Nomade's finishing 4th.
The lunch break saw many players get a much needed YC&AC Kebab while watching the 5th place play off between the two TZFC teams.
With Kebabs digesting it was show time again. The Plate Semi Finals saw KGFC play FC Nomade. Ryosuke scored a couple plus an own goal gave KGFC a 4-0 win. BEFC played Lads FC who were tiring with no subs and won 2-0.
The Cup Semi Finals saw two tight matches which both resulted in penalties. BFC Tokyo were tamed against Ye Boiz but held their nerve in the shootout. Peru FC after scoring a last second equalizer beat Shunsuke FC to also reach the final.
So the 4 finalists were all from the same Group of Death.
The Plate Final was decided by a thunderbolt of a free kick scored by King George's famous number 7. He'd just seen his previous free kick goal not given, despite it crossing the line after hitting the underside of the bar.
The Cup Final saw the fitter and younger BFC Tokyo run out 4-0 victors over the tiring Peruvians.
It was a great tournament played in lovely weather. Shout out to the YC&AC staff and also the 4 referees; Aaron, Kazu, Quentin & Manuel.
Please click here to view photos from the day.
Next regular 7s Tournament (Charity 7s) will be in May but we do also have the 2 day International 'Samurai 7s' in March. Until then have a great 2019.