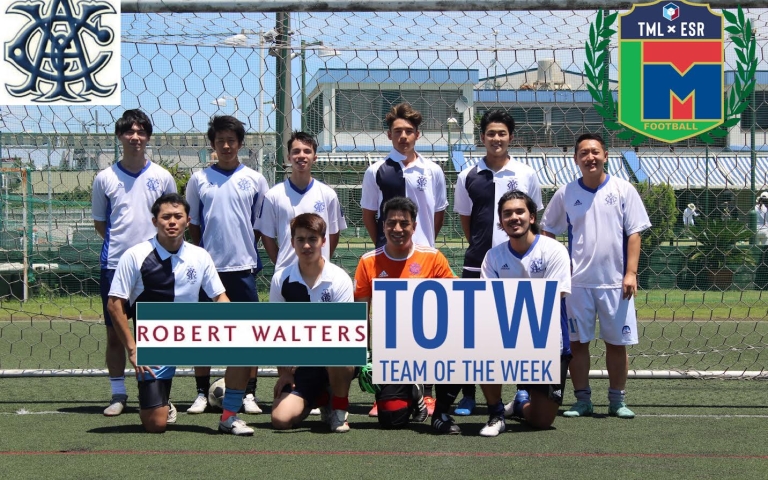 Robert Walters Team of the Week (Sept 4)
Announcements -
September 5th 2022
The second week of TML20 was a busy one! 9 fixtures scheduled (of which 3 were cancelled
) but still 6 games went on. The next few weeks will continue to be busy, with up to 11 fixtures (meaning 22 teams) playing on a single weekend! As teams go out and enjoy their football, FootyJapan would like to express it's gratitude towards ESR for their second season of sponsorship. They have been instrumental in assisting FootyJapan provide it's football to the TML community.
The Robert Walters Team of the Week goes to YC&AC, the most inconsistent team in the league! Known for arriving 5 minutes before kick off and not warming up, YCAC have beaten some top sides last season (beating Panthers, Pumas, Hibs in friendlies/7 asides) and beat FC International last season in the ESR FJ Cup. And yet they also lost half of their league games putting them right in the middle of the pack. If they had a fraction of preparement + warmup, I have no doubt they would put a consistently strong preformance.
The game was reffed by Noguchi Naoya, one of our new refs that was to be tested by two very physical sides. No better way to welcome a new ref to the TML!
The game started immediately with a strong goal by YC&AC's Matthew Freeman in the 12th minute. Core member Kyohei Urabe also followed up with a goal of his own. Although BEFC Lions' golden boot winner Finn Johanssen scored a goal in the 30th minute, YC&AC scored another pair of goals in the second half (BFA coach Casey Blair and Sean Lee) ending the game 4-0.
Game was controlled brilliantly, with only a single yellow card given to Olaf Marti Blacafort... which can't be helped!
Congratulations to YC&AC for winning the Robert Walters TOTW!