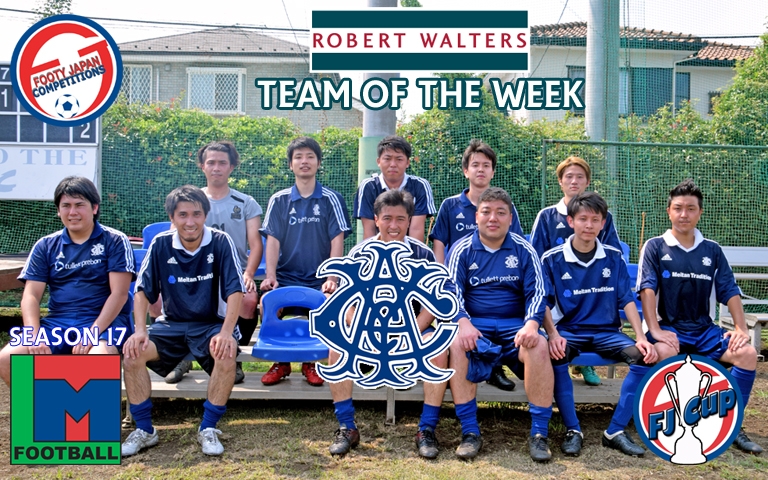 Robert Walters TOTW13 + TML Allstar Futsal
Announcements -
September 29th 2020
This weeks (cause clearly this is a weekly thing) Robert Walters Team of the Week is YCAC!
They played Dutch FC, who are currently in the third in Division 2, at YCAC on Sunday.
YCAC are infamous for their slow start. A team that hardly warmsup and always seem to be laid back. Yet they somehow manage to go even with Dutch in the first half with a 0 - 0 score. Things really started to pick up once Masato Fujii (YCAC) came on in the second half. A shot from half way to try and beat the keeper missed by inches. Moments later, Masato makes a second attempt to lob the keeper, this time finding the back of the net. YCAC began displaying better passing, lots of tiki taka and better endurance. Perhaps one of their best preformances of the season as many of their goals involved a collective effort from the team. Players were running from deep positions to get involved in the attack and help in the build up. Familiar faces on the scoring sheet for YCAC: Masato Fujii (3), Yuta Konno (1), Shunsuke Shinozuka (1), Sohei Tsukuda (1).
Final score, 6 - 0, YCAC's biggest win of the season!
Congratulations on YCAC for winning the Robert Walters Team of the Week!
On the afternoon of November 1st (Sunday), Footy Japan will be hosting "TML Allstars Futsal" at Shibuya Sports Center. This will be a great opportunity for inter-club relationships as I am planning on having top players from different clubs playing with and against each other.
The Futsal will have a unique format, please have a look at the video to familiriaze yourself to it:
https://www.facebook.com/footyjapancompetitions/videos/2707806326138757/
Send an email to "toma@footyjapan.com" to sign up for the Futsal. It will only be 24 total players that would be able to compete.