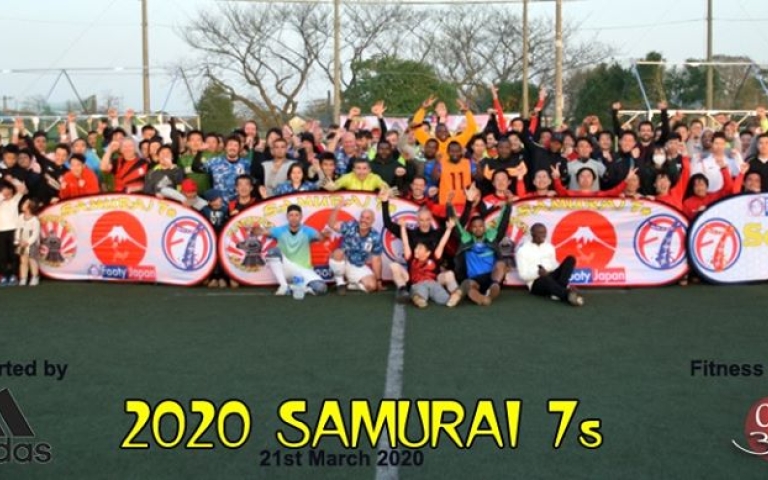 Samurai 7's
Announcements -
March 23rd 2020
In midst of the corona virus looming over Japan, the international Samurai 7's 2020 went ahead on March 21st. A beautiful sunny afternoon welcomed 12 teams to the YCAC pitch.
Group A had British Embassy FC, Aurora FC, FJ Masters, F-League O30 FC, Robert Walters & Friends, Kilamanjaro FC
Group B had Peru FC, FC International, Oito FC, Toma's Peons, SV Wacker Durchsaufen, International Ronin
A wide array of players from TML clubs made appearances (Guts, Jetro, Hibs, Pumas, Celts, K2, Sala, British Football Club, British Embassy FC, King George, Albion Old Boys, FC International).
The only two TML teams that participated, FC International and British Embassy, respectively won their groups. British Embassy, led by Ririo Batto (current top goal scorer of Division 1), won all their group games.
FC International came out of their group with 4 wins and 1 draw,
In the finals FC International and British Embassy FC faced off but could not determine the winner after the final whistle. The game was to be decided by a penalty shoot out. Even the penalty shoot out went down to the wire.
And no better way to have the match determined by FC Internationals captain, Yo Fujii. With his entire teams hope riding on his shoulders, he places the ball to the keepers left. The keeper reacts well but doesn't get enough on the ball to keep out of the net. Congratulations to FC International for winning the Samurai 7's Cup!
On a much less important note, Toma's peons won the Samurai 7's plate.
https://www.facebook.com/footyjapancompetitions/videos/229630075019227/