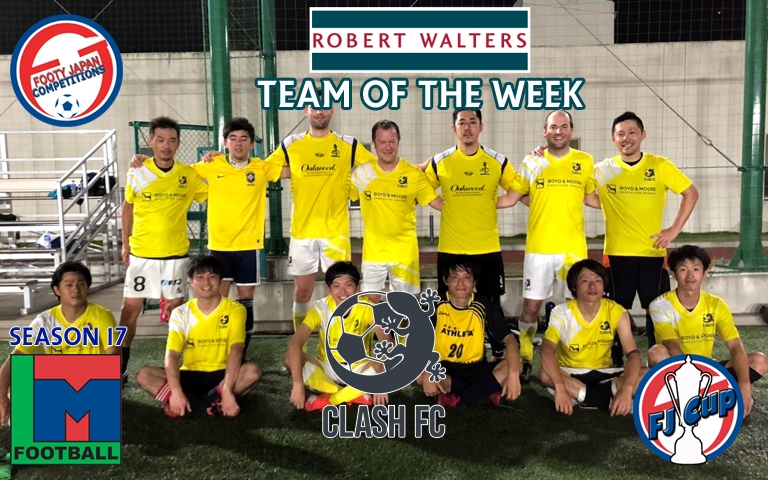 Robert Walters Team of the Week 1
Announcements -
August 18th 2019
TML 17 started it's first batch of matches all in the late evening to avoid as much of the heat (thank you TML Operations Manager).
It seems like all the results for the weekend were "predictable". All the higher placed clubs from last season won. Fussa (freshly demoted from Division 2) beat Brunello FC. Jetro welcomed Eastern Capital to its first Division 2 game by giving them a 2-0 loss. The most evenly matched game was Dutch vs Guts, however Takuma Ueyama (who won the Golden Boot with Zion last season) scored a hat trick making him the sole difference maker in the 5-2 win for Dutch.
Team of the week goes to Clash FC who took a convincing 4-1 win over King George FC. They moved the ball very well and had great fluidity between their strikers and mid fielders. Strikers were often dropping back to create a numbers advantage in the midfield and worked hard to move the ball around. With Clash dominating possesion over the ball and showing greater fitness, it was only a matter of time before they scored.
Kai Tsutomu (who is the Golden Boot winner last season) scored two goals, one of them being a header depite being shorter than the King George back line! The Clash defence had a solid preformance, letting in only a flukey deflected goal by Ryosuke Urai. This win makes it their 9th consecutive win continued from last season. If I was a betting man, I'd say Clash and Fussa will finish in the top of Division 3.
The only highlight King George displayed was Keeper Brad passed the ball within his box to Sean Caroll on a goal kick. King George FC showing off their football IQ of the new FIFA rules!
Congratulations to Clash FC starting their season off with the Robert Walters Team of the Week Award!