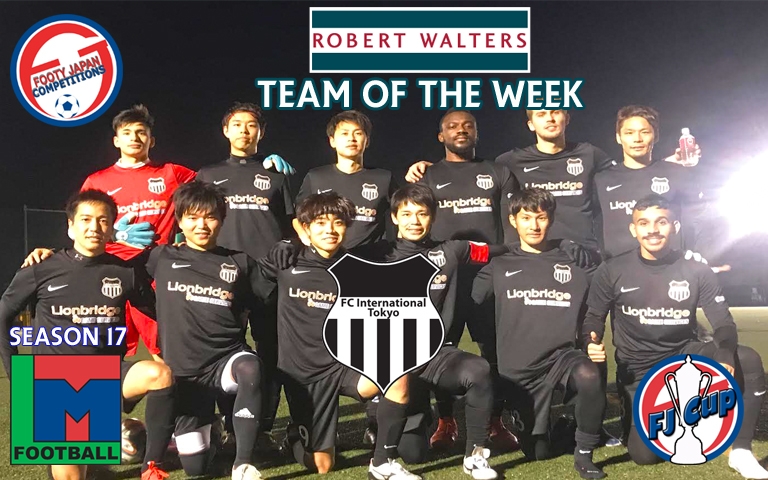 Team of the Week 8
Announcements -
December 15th 2019
Despite being mid December, the TML has been blessed with fairly warm weather this weekend.
Real Celts have won their first game of the season to mid table Guts. Ironically Guts beat Kanto Celts (the Celts' first team) in the Cup a few weeks ago.
Tomoyoshi Tsuchiya (Lions FC) scores his first hat trick of the season on the beautiful grass pitch in Tendaicho but got outshined by the precise passing of Sala's strikers and midfielders.
FC International were hitting a bit of a dry patch, having lost three league games in a row. To climb out of the bottom ranks, they needed to win against their next opponent, Kanto Celts.
The match started off with Kanto Celts creating more chances. A great ball in from the wings to Iain Mason (Kanto Celts), he fires one from point blank range at the keeper (who does well to save it) and proceeds to roof the second ball... a blunder that haunted him the entire train ride back. The first half ended with more high lights for Kanto Celts but the score remained 0 - 0.
When the second half started, FC International looked like a different team. Perhaps it was a combination of the Kanto Celts defenders getting tired or the FC International attackers finding their stride but FC International were moving the ball a lot better. On top of this, players like Metu's (FC International) individual talent started to shine. Slicing and dicing his way through multiple defenders, he looked unstoppable at times.
Kanto Celts certainly had their chances through out the game but with several crucial misses and FC International finishing their chances, the score gap continued to grow.
4-1 at full time, a great preformance in their second half reeled in the win for FC International.
Catch Metu Chizoba's dribble on the following link:
https://www.facebook.com/footyjapancompetitions/videos/2427193820867257/
Congratulations to FC International for winning the Robert Walters Team of the Week!