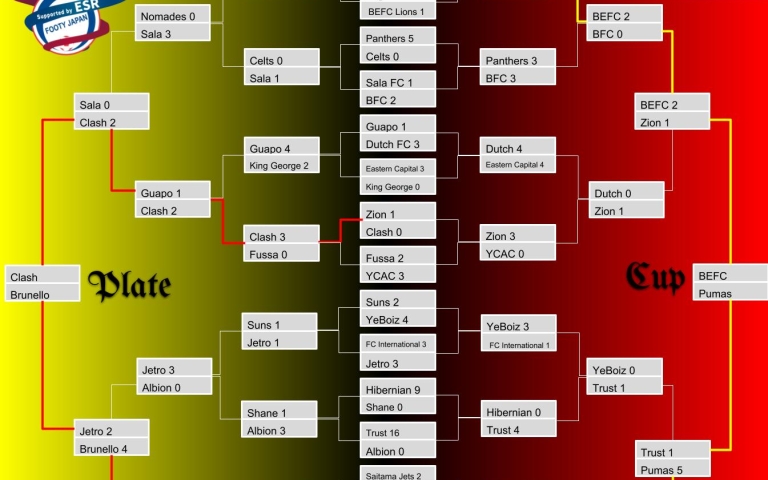 ESR FJ Cup and Plate Finals this weekend!
FJC News -
May 16th 2023
The finalists for the ESR FJ Cup and Plate have been determined.
Brunello and Jetro played in the semi final last week to qualify for the finals and the game seemed like a one way boshing from Brunello. Brunello carried a 3-0 lead until Jetro scored 2 rapid goals in the second half closing the gap to only 1 goal. However Brunello tightened up their defence in the last 10 minutes and packed in another goal to finish the game 4-2. The Plate finals will be Brunello vs Clash!
Both cup semi finals also took place last week, Pumas vs Trust and BEFC vs Zion. Pumas beat a short sided Trust United proving that commitment to the team is paramount in success. A solid 5-1 win down at Oomiya Kenpo.
The other semi finals was at Amino Vital. Zion took the first goal despite BEFC controlling much of the game. But BEFC were relentless with their work and scored 2 goals in the second half clinching out the win.
The Finals will take place on May 21st Sunday at YCAC. Plate Final 09:30 Brunello vs Clash, Cup Final 11:00 BEFC vs Pumas.
The cup finals will be a rematch of two seasons ago where BEFC won the Cup Finals over Pumas in a 1-0 game. Brunello and Jetro are making their first apperance in finals so it will be a historic moment for one of the clubs!
Good luck to all the finalists and congratulations for making it this far!