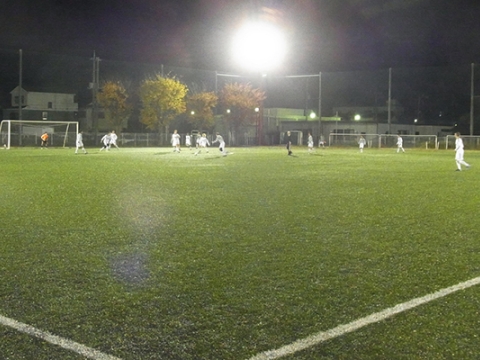 Address
4-1-10 Hachioji Chuo Ku, Saitama-Shi, Saitama
Directions
10 minutes taxi from Yonohonmachi Station on the JR Saikyo Line.
Parking
Free car park inside complex
Surface
3G Artificial (upgraded as of Feb 2011!)
Facilities
Changing rooms with hot showers, toilets & ¥100 lockers. Vending machines inside of main building for drinks
Teams cannot enter the playing field until 10-minutes before kick-off time – this means waiting in the changing room, or the car park (NOT ON THE SIDELINES OF EITHER PITCH)
All rubbish must be cleared up after your game – don't leave it to someone else. Bringing along a spare plastic bag for this purpose is a good idea
Outdoor shoes/boots should be removed before entering the changing room and it is important the changing room and showers are left dirt and rubbish free
All players and spectators must vacate the premises by 21:00 at the latest
Players must not undress and/or become 'exposed' in the general seating area where the lockers, vending machines and office is located. This is a public area used by women, children and staff. Players must change and dry off in the separate shower area. We have received complaints due to players not adhering to this in the past and we are now on our final warning – PLEASE THINK!